Who is 3D4ME,LLC?
3D4ME, LLC is a 3D printing and design company based in Orlando, Florida.  We build all of our own 3D printers to keep costs low and to make sure we can bring you the best product possible.  Having the knowledge to build and control our own printing equipment means that we can implement extremely thorough quality control procedures and we can replace and upgrade anything based on our client's needs.  We have in-house design and reverse engineering capabilities and have assisted numerous clients with prototype development, personalized hardware components, cosplay design changes, drone upgrades, and many other novel applications.  We can also print objects that have already been designed (e.g., stl or obj files).  We are happy to help assist with printability assessments and suggestions to make an object more printable.  In some cases, we can provide these services free of charge.  Give us a call at 407-592-3235 for a free consultation.
Our 3D Printing and Design Services
Choose from Thousands of Publicly Available Files!
Check out www.thingiverse.com
Choose from our own designs
We have a growing database of 3D designs available to you free!
Print what you want when you want it!
Why buy something mass-produced when you can customize it! Call or request a quote for more information.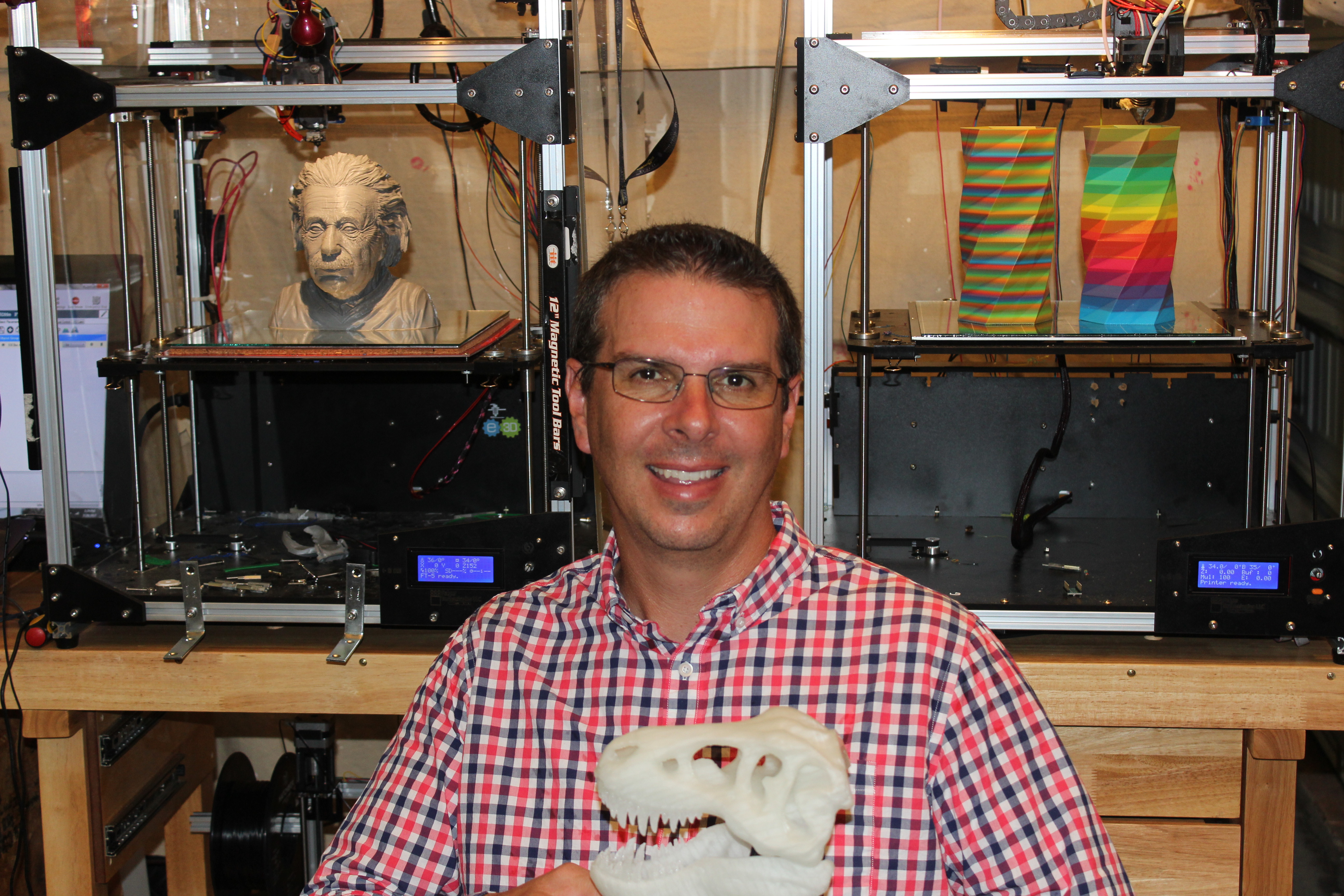 Lance Lumbard
Owner
3D printing provides the perfect opportunity to connect Lance's talents and the resources of 3D4ME, LLC with you.
More about our services
Get what you want when you want it.
3D printing and intuitive design programs allow rapid development and production of customized 3D objects. 3D printing is still in the early phases of mass consumer appeal, but the technology will evolve soon.
Choose from an ever-expanding selection of colors and materials
Right now, we only make 3D prints in solid colors, but as consumers become more savy and technology improves, we'll be able to print multi-colored objects.
Custom sizes are easy!
Any .stl file can be easily be printed in any size you want up to the maximum amount of build space we have available (approximately 8 inches x 8 inches x 8 inches]
Our Equipment
We print using our own custom equipment built to our own specifications. Our extensive knowledge of each component of the 3D printer allows us to control every aspect of the print ensuring you get the best quality and most reliable service.
Two large format printers
One standard Prusa i3 printer
Server control interface
Customizable code
Controllable print speed
Adjustable infill settings
Additional services like acetone vapor bath available
More about our services
3D4ME makes 3D printing easy. Check the video tab for instructions and ideas to turn your imagination into reality!
3D4ME posts weekly blogs to bring the fascinating topic of 3D printing to you in a way that is personal and informative.
3D4ME is working to create a library of our own designs featuring 3D inspired by everyday needs or simply artistic enjoyment. You can find the .stl files in the blog section. Just download the files and print with us or use them however you like!
Our Testimonials
Quick and hassle free. Very good experience with this hub!

Jason,3D Hubs buyer

A high quality, super fast print and a very responsive Hub. This one has it all! Would definitely recommend!

Chris,3D Hubs Buyer